NGO Services in Delhi NCR| Let's Be Kind to Poor Children and Families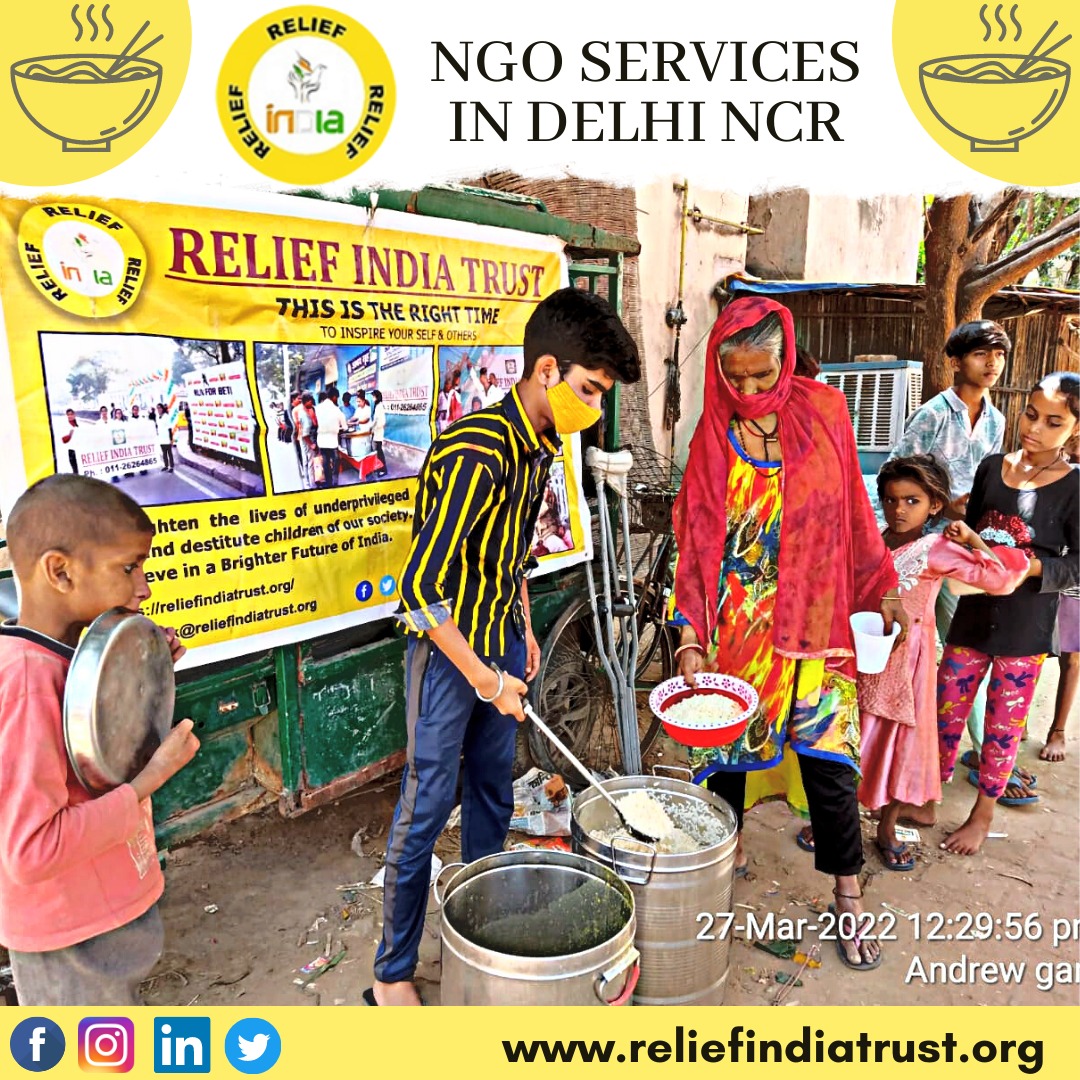 When we say the word NGO automatically we get an image of helping hands for the person in need. The Relief India Trust is providing one of the best NGO services in Delhi NCR. Many families have no hope because of a lack of financial support. We provide them with the finances to meet their requirements.
The Relief India Trust strives to support deprived children and families in difficult situations. Our organization provides various NGO services like Education, Accommodation, Health & Fitness, Food, etc. We
Provide them Skills because in some places you must have seen poor children are being exploited by the upper class of society. These upper-class societies make these kids and families work for so many hours for fewer wages.
We ensure that every child should get an education. Our Relief India Trust not only believes, but also sends its volunteers to villages. To be aware of the importance of education. We encourage the families to educate their children, no matter what their gender is.
In India, many NGOs are working for the poor and the weak section of the society to uplift their standard of living. Our NGO is trying hard to make them available with their necessities. The individuals living in slums are not able to meet their daily necessity. As a responsible part of society, we provide NGO services in Delhi NCR region.
NGO services we provide:
Food Distribution: We feed approx 3000-3500 people in a day. Meeting the hunger of these children and families is compulsory. Food provides us Nutrition and nutrition is important for the growth and development of the body. Many children in India are suffering from Malnutrition caused due to hunger.
Clothes Distribution: As an organization, we distributed clothes to poor people. As Delhi was moving towards chilling winter our volunteers distributed high-quality blankets to the poor.
Counselling Facility: Our NGO provides counselling facilities to the poor's. At our Rehabilitation centers, we organize various activities. That helps the kids and people in understanding their strengths and skill.
Tree Plantation: Along with the individuals we motivate people to plant trees on every important day of life.
Health & Hygiene Camp: we organize health and hygienic camp, which makes the poor's aware of the value of Health. Our NGO supports the prevention of Thalassemia, AIDS/HIV, Cancer, and other deadly diseases.
The Relief India Trust was established for providing a better life for people living in the realms. Our NGO is best in proving NGO services in Delhi NCR. We are looking for our donors, and readers come to join hands with us. And provide us support in making the lives of little ones easy. We act as helping hands to the people in need. Our charitable organization is always ready to help every family in need. For support or to become a part of the NGO visit our website at https://www.reliefindiatrust.org/. For daily updates, visit our social media sites like Facebook, Instagram, Twitter, and LinkedIn.