HelpAid India | distributing nutrition in the form of food packets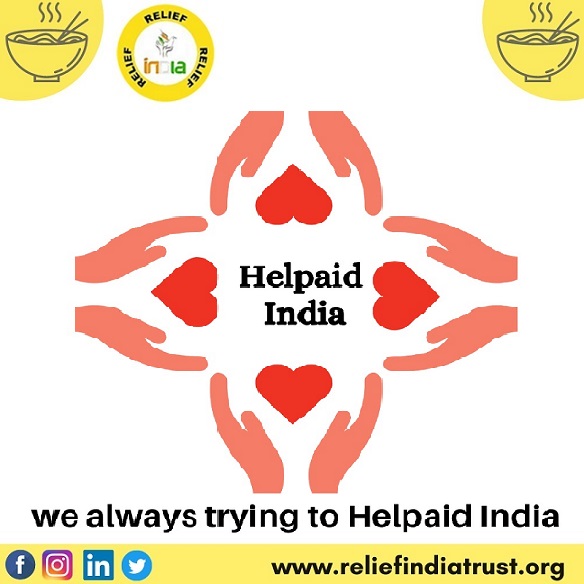 Relief India Trust acts as HelpAid India to protect low-income families. These families are unable to save more for their future. They compromise on their needs and wants. Our NGO distributes free food packets to the people living in slums. Compromise with nutrition means challenging your health.
Without food, one cannot do their work. Food gives us the energy to do day-to-day work effectively. India is a country with a huge population and apart from this, the number of unemployed persons is high. Our NGO empowers the destitute to prepare them for acquisition. It is very important to make Indian people self-reliant. Being independent inspires more confidence in oneself.
Our NGO distributes nutritious meals to the people living in slums. Food distribution is essential as low-income families hardly eat proper three times meals. No one can tell when you will face difficulties in your life. Whatever the case, remember one sure thing, if you're helping at some point, it will pay you off in your bad time.
We live in a country with different philosophies and beliefs. You've probably heard from your parents or grandparents that great things never end. So keep doing your beneficial work without asking for anything. These NGOs are role models to achieve this. We help the underprivileged without asking them anything. The idea of ​​Help Aid India is basically to help the unfortunate families in the ghetto.
What happened to these people during the Pandemic? How did HelpAid India help in their survival?
During the pandemic and after that also these people fight a difficult battle. These people firstfought from the disease second from hunger and third from its recovery. There are still many families who are facing difficulties in their survival. Relief NGO is helping these families. Our NGO feeds at least 5000 people a day.
The lack of food leads to malnutrition. In India, many children are still suffering from malnutrition. Families in slums have limited access to things which leads to bringing problems. Our charitable foundation runs a food campaign "Feed Needy India Program". This initiative's main goal is to eradicate hunger from society. We are striving to keep every citizen healthy and happy.
We have served many families and let's get inspired by the story of a lady. A man living in Delhi was feeding his family of four members. He was living with his parents and two small children. Covid had created a mess in many families he is also among the victim. His wife died due to Covid and as he is a daily laborer and he was not able to save her wife. Pandemic took his wife along as a source of earning bread for his family. We then helped his family and to get back and be independent.
Conclusion:-
You can read many stories where Relief NGOs acted as Helpaid India for poor families. The more you give to the poor and needy the more you strengthen their dependency. If you give them the chance or opportunity, you'll see an improvement in their lives. We want to make society free from all kinds of inequality. We hope you like our thoughts and will pay your contribution to our society. You can visit our website for more information https://www.reliefindiatrust.org/. You can follow us on social media platforms like Facebook, Twitter, Instagram, and LinkedIn.