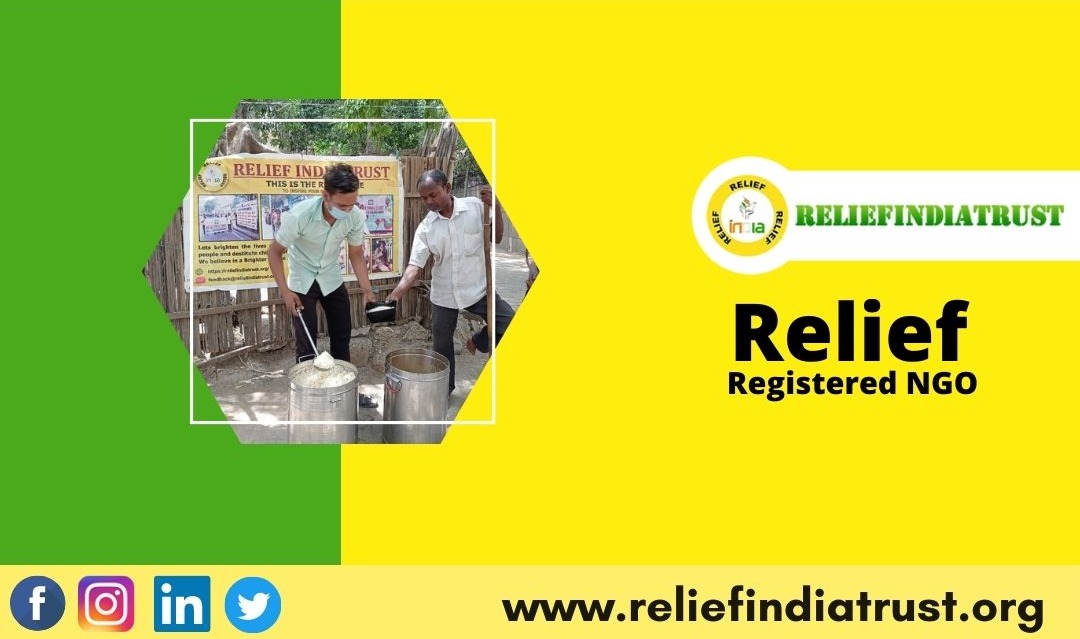 Relief Registered NGO: you can't love without giving| GIVING HOPES
Relief Registered NGO is working day and night for poor children and families. We are serving them since 2011 and, providing them a better standard of living. Relief India Trust is trying hard to full fill their needs as much as possible. Our organization commits to the work of the poor's and vagabond children.
Relief India Trust is provides food regularly. Our NGO wants hunger-free India, and keeping this thought in mind, we feed approx 2000-2500 people daily. We strive to help these children with their holistic development. We are supporting children with their disabilities. Disability affects the person along with their family.
The main goal of Relief India Trust is to ease the supplies to the realms. During Covid, we supplied masks, sanitizers, and medical help to the slums. Right now, whenever we go for food distribution, we encourage people for Covid vaccination. As there is a lot of gossip going on about the vaccination we create awareness among the poor's.
The Relief registered NGO supports Thalassemia patients. In this, the child suffers from the abnormality of blood making. Their blood vessels cannot make blood on their own, so they need extra blood for the survival. It doesn't pass to one another. A child suffering from this disease cannot grow normally like others of the same age. If in case the child didn't get the blood on time, then he/she may suffer from Bone Deformity. This is the life-taking situation of a child. So, we help the hospitals and the child's family to arrange by organizing blood camps at several places.
What do we do as Relief Registered NGO?
We play an important role in creating awareness. To protect our environment from global warming. Our NGO encourage tree plants. We plant tree on the birthday of every volunteer and donor. Relief NGO promote safety practices from HIV/AIDS, cancer, and other deadly diseases. We provide medical help to OPD cases, where families cannot afford the medical expenses of their children.
Relief India Trust empowers girls and women not only in Delhi/NCR. But we focused on empowering the women and young girl children all over India. We supply educational stationery, especially to rural areas. There is still some person in our societies who see women as less than man. We are keen to break these stereotypes people. This is the 21st century where men and women together serve their families.
Relief registered NGO strengthen governance and systems to settle on concrete decisions. That is available and appropriate to all, and to create viable frameworks. Which will make the joint effort of the whole society a reality? This approach not only develops our society, indeed it is a small effort toward a new India. Where there is no discrimination on basis of status, caste or creed.
Donate to us so that we can continue our support to the poor and the children in need. Share our work on your social media platforms. For more detailed information you can visit our official website. https://www.reliefindiatrust.org/
Social Link: Facebook